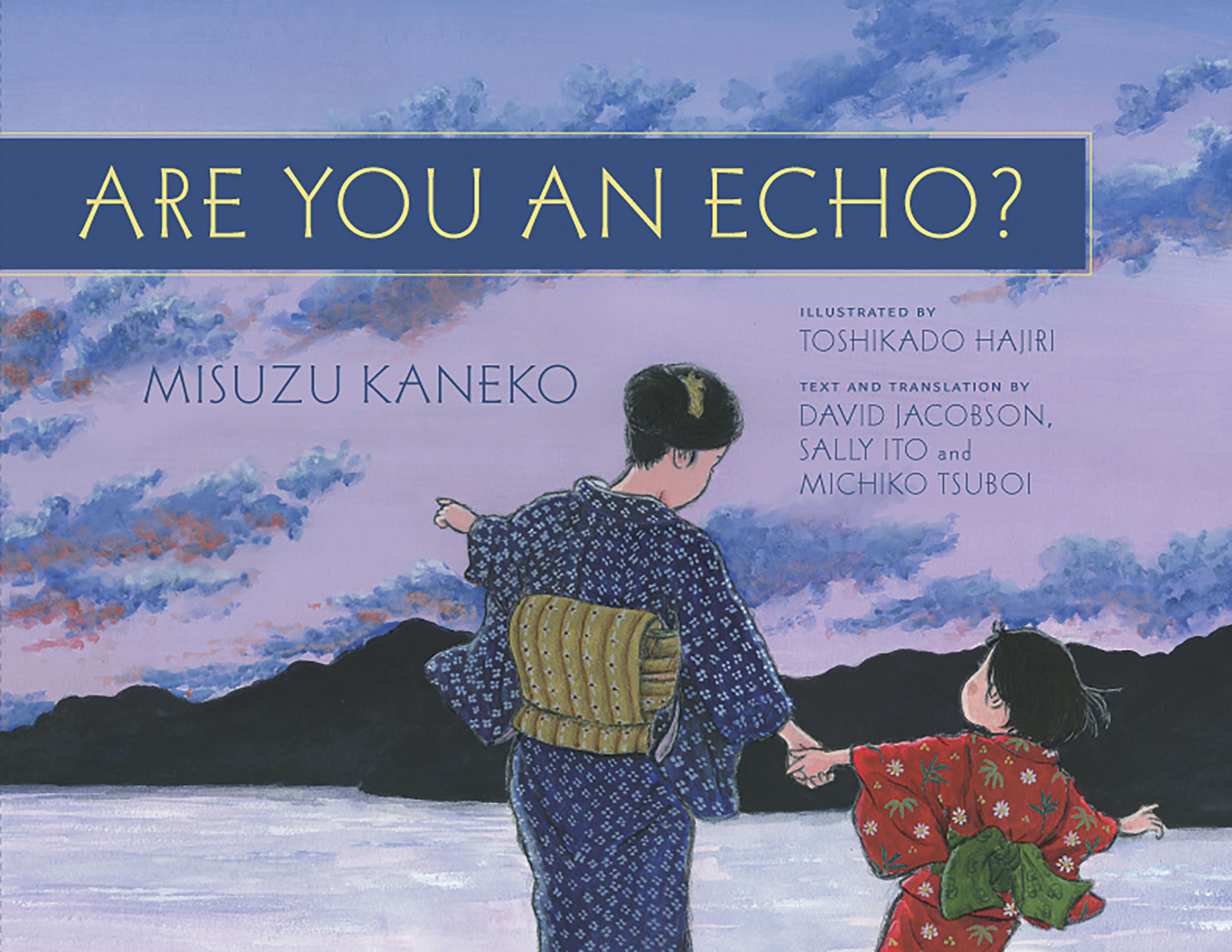 Are You an Echo? The Lost Poetry of Misuzu Kaneko introduces the poetry of renowned Japanese children's poet Misuzu Kaneko. A children's picture book, it interweaves Misuzu's moving life story with twenty-five new translations of her poetry alongside fifteen of the Japanese originals. Every page is filled with color illustrations by Japanese artist Toshikado Hajiri. 
Publication Date: September 13th, 2016
Chin Music Press
11"x 8.5" | 64 pp
Trade Cloth Picture Book | US $19.50
Ages 9-14
978-1-634905-962-6
Distributed by Consortium Books & Distribution
Media Contact: David Jacobson, davej (at) chinmusicpress.com
The airing of Kaneko's poem "Are You an Echo?" in this public service announcement became an "enduring memory" of the 2011 tsunami, according to Prof. Jeffrey Angles, and "helped to demonstrate … that language could help with the work of healing and maintaining civility in the face of terrible odds."
Read the Reviews
"This is without a doubt one of the most amazing books of the year."
—Betsy Bird, "Newbery/Caldecott 2017 Fall Prediction Edition", SLJ
---
"Each brief poem addresses nature, children's observations, or both, in language that will be both accessible to the youngest readers and thought-provoking for adult caregivers. Striking, memorable imagery—a lost hat enjoying a new life as a bird's nest, the mystery of a cicada's molted husk—guarantees fruitful rereadings for readers of all ages."
—Kirkus Reviews
---
"Ito and Tsuboi render Misuzu's plainspoken poems into graceful English ("The fish in the sea—/ no one looks after them;/ they do no harm./ And yet, here I am about to eat one") and Jacobson provides the tragic biography of an artist whose life blazed and ended early...Hajiri's warmhearted illustrations of turn-of-the-century Japanese life recall the work of Allan Say; they dwell on the closeness between Misuzu, her mother, and her daughter."
—Publisher's Weekly
---
"Are You an Echo? is a wonderful little book, both for the story and the poems (not to mention the illustrations), bringing a talented voice to the Anglophone world, one that reflects on matters most people gloss over."
—Tony Malone, Tony's Reading List
---
"Astonishingly beautiful and soulful, it hit the mark in every way. It was a reminder that softness and sensitivity have enormous value despite (and actually because of) all the harshness in the world."
—Eve Kushner, Misuzu Kaneko: Everything was Alive, Joy o' Kanji
"This lovingly wrought text brilliantly honors Kaneko's work and gives readers a welcome opportunity to revel in her unique way of looking at the world."
—Booklist, Starred Review (to be released 9/28), Sonia Alejandra Rodriguez
---
"This wonderfully illustrated book stresses the positive legacy of Kaneko's tragic life. A recommended purchase for all collections, especially those with an interest in international poetry."
—School Library Journal, Marilyn Taniguchi
---
"The poems themselves will appeal to children, while the book as a whole will speak to readers who are interested in Japanese literature and culture, in poetry and translation, and anyone who finds inspiration in poetry's immortal nature."
—Quill & Quire, Kerry Clare
---
"Not since Hana's Suitcase has such an exciting contribution to children's literature emerged. Are You an Echo? has something for every reader: a compelling story and beautiful poems for children, factual accuracy and rich content for teachers and librarians, a respectful look at one woman poet's experiences for feminists, and a glimpse into another time and place for parents and educators committed to multiculturalism, a fascinating genre mash-up for scholars, and a just-plain-gorgeous-in-the-hand book for everybody. Are You an Echo? will enrich the lives of every reader."
—CM Magazine: Canadian Review of Materials, Michelle Superle
---
"Are You An Echo? The Lost Poetry of Misuzu Kaneko is a beautifully packaged, substantial picture book to treasure — a book to give poetry lovers of all ages, in all corners of the world."
—Contemporary Japanese Lit, Holly Thompson
Advance Praise
"Are You an Echo? transcends the genre of picture book biography. Beyond tracing the outline of the poet's life, it tells a larger story about the search for Misuzu Kaneko's personal history and the collaborative nature of biography, translation, and bookmaking. David Jacobson artfully blends Kaneko's poems into his narrative, which is at once gentle and unflinching. The sweetness of Hajiri's illustrations soften the harsher details of Kaneko's short life, and just when you think the story is coming to a close, a generous selection of poetry follows."
—Matthew Burgess, poet and author of Enormous Smallness: A Story of E.E. Cummings
---
"A mystery, a quest, a mother and a child, an earthquake and a discovery: Are You an Echo? folds poetry and history into recent events, resurrecting the work of Misuzu Kaneko and bringing the gentle grace of her poems to a new generation."
—Lauren Redniss, author of Radioactive: Marie & Pierre Curie, A Tale of Love and Fallout, finalist for the National Book Award
---
"Are You an Echo? is poetry for children at its finest. This poignant true story of a forgotten poet, beautifully illustrated and interwoven with her lost and rediscovered poems, is a richly rewarding read."
—Kenn Nesbitt, former Children's Poet Laureate (2013-2015)
---
"David Jacobson weaves poetry and tragic history into the poignant biography of an iconic Japanese children's author. Leavened by gentle, expressive illustrations and a generous selection of translated poems ranging from observational to inspirational, Are You an Echo? confronts unlikely subjects for a picture book and will leave parents and children with much to discuss."
—Bruno Navasky, poet and former editor of American Poet: The Journal of the Academy of American Poets
"Beautifully translated, written, and drawn, this graphic book - for children and adults alike - links two stories: that of a people faced with natural disaster, and that of the life of Misuzu Kaneko, revered Japanese poet of the early 20th century, whose works for children evince a cosmology of kindness we can all embrace. It's almost a companion to St. Exupery's Little Prince! Here stars, snow, echoes, silkworms, tomatoes, dewdrops and fish, among others, cohabit our world and give us hope together. Children will love Misuzu's inquiring mind and her questions of the world, and will learn very gently as well about tragedy and difficulty, about the lives of women before feminism gave them a legal voice, and about the life-force of poetry." 
—Erin Mouré, poet and translator
---
"A true miracle can be found in this book of wonders: amid exquisite artwork and lovely and compelling poems, Kaneko's magnificent spirit - the spirit of poetry - lives on despite her heartbreaking real-life story. An utterly original book of immense beauty and importance." 
—Brenda Shaughnessy, poet
---
"Brimming with compassion, empathy, and love for all things on this planet...and beyond. The translations are truly superb - the illustrations, truly lovely. This is a book presented with all the beauty of an exquisite Japanese meal!" 
—Roger Pulvers, winner of the NOMA Award for the Translation of Japanese Literature
In the Press
Forgotten Woman: The Life of Misuzu Kaneko, Electric Literature, Sally Ito
"Misuzu was a poet through and through, a woman besotted with words and their power to express her deepest feelings of love, compassion and gratitude. She wrote, not so much to be remembered, as to not forget how delightful and wondrous the world could be for a child, and that is why her poetry is so celebrated in Japan today."
---
Chin Music Press Translates Japanese Children's Poet for US Market, Publisher's Weekly, Anisse Gross
"March 11th of this year marked the fifth anniversary of the Japanese earthquake and tsunami near Tohoku that killed roughly 16,000 people. In the aftermath of that event, television commercials were put on hold and instead public service announcements were released; one of them featured the poem Are You an Echo? by the late children's poet Misuzu Kaneko, who had nearly vanished into obscurity until her work was revived in the 1980s, and then was thrust into the spotlight via the post-tsunami PSA.
---
Picture Book to Share the Poetry, and Life Story, of Misuzu Kaneko, SCBWI Japan Translation Group, David Jacobson
" 'Who was Misuzu Kaneko?' That's what my colleagues and I at Chin Music Press asked when we set out to create our forthcoming picture book, Are You an Echo?  The Lost Poetry of Misuzu Kaneko. The question is probably the first one that comes to mind among those not familiar with this wonderful children's poet, who, amazingly, is little known in the English-speaking world."